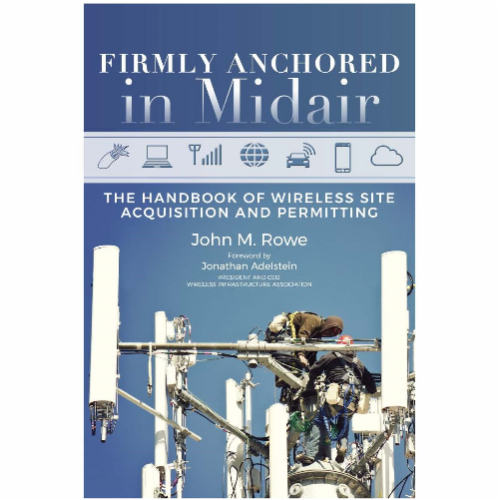 Topics Covered in "The Handbook of Wireless Site Acquisition and Permitting"
Part One- Wireless Site Acquisition
"Orientation to Wireless Site Acquisition and Permitting" explains the importance of infrastructure in the wireless industry, the need for real estate entitlements, and the environment in which site acquisition takes place. Twelve qualifications and fifteen essential functions are provided as context for the site acquisition role. Progress milestones are highlighted, casting light on the tasks and outcomes derived from the site acquisition process. Background concerning wireless systems design and the components that make up wireless infrastructure portray the texture of wireless facilities. Finally, an understanding of search area design supllies the perspective needed to understand how site acquisition assignments are generated.
"Site Search Due Diligence" focuses on how each search area assignment is evaluated. Information is gathered to characterize each search area. The search area is mapped to identify existing structures, areas of favorable zoning, and to determine property ownership. Environmental factors are considered. The zone-ability, constructability, and lease-ability of potential locations are evaluated. Conversations and negotiations with property owners of qualified locations take place to determine the most desirable candidates for project development.
"Site Selection Analytics" completes the first half of the story. A search area
report (SAR) is compiled with feasibility data that allows pertinent members of the project team to decide which location to develop. Upon site selection, an in-depth report of due diligence information collected for the chosen property is compiled for distribution to the project team. At this point the project transforms from a site selection process to development preparation for site construction.
Part Two- Wireless Site Development
The Fifteen Essential Job Functions of Wireless Site Acquisition and Development
These are the standard tasks to perform wireless site acquisition in securing necessary real estate entitlements. These fifteen essential functions incorporate the entire cycle of the site acquisition process, from receiving a search area assignment through the acquisition and documentation of the entitlements necessary for a new facility to be installed or constructed and operated. The text is organized to correspond with the sequence of the essential job functions. As such, subsections within each of the six sections following Section I group essential functions into the category of that section. Chapters are organized to address the sequence of essential functions throughout the process.